Prostate cancer, the most common non-cutaneous cancer globally, is primarily influenced by factors such as the aging population, sedentary lifestyles in industrialized countries, and the early onset of urological diseases. The emergence of research and development programs focusing on patient-centric care is anticipated to drive innovations in effective drugs and treatments within this field.
The Global Prostate Cancer Therapeutics Market was valued at US$ 12,798.4 Million in 2022 and is anticipated to reach US$ 23,231.4 Million by the end of 2030 with a CAGR of 7.8% from 2023 to 2030.
The reliance of patients on health insurance coverage for payments can create pressure on market participants. However, the past decade has witnessed substantial advancements in prostate cancer treatment through medications like enzalutamide, abiraterone acetate, sipuleucel-T, and cabazitaxel, as well as options like radium-233. These treatments have not only improved patient trust due to fewer side effects but have also driven the shift toward patient-centered care.
Market participants can consider cost reduction strategies by shifting production to underdeveloped regions in the Asia-Pacific, potentially lowering the expenses associated with prostate cancer treatment. Positive projections are being made for the global prostate cancer treatment market. The past decade has seen significant progress in androgen receptor targeting for prostate cancer. However, optimal utilization of immunotherapy and radiopharmaceutical-based treatments in clinical settings remains a challenge. Despite this, governmental and private investments in research and development initiatives are expected to drive the global market.
The prevalence of prostate cancer is tied to an aging population and sedentary lifestyles, particularly in industrialized nations. Prostate Cancer Foundation data indicates that most prostate cancer cases occur in men over 65. Factors such as sedentary behaviors, rising childhood obesity, and the aging demographic contribute to the global prevalence of prostate cancer, creating a higher demand for effective treatments.
Modern diagnostic methods, particularly monitoring PSA levels, have revolutionized prostate cancer diagnosis. Ongoing clinical trials are exploring new cytotoxic drugs, hormonal therapies, and anti-prostate-specific membrane antigen therapies in phases II and III. Personalized immune responses through the combination of hormone therapy and anti-CTLA therapy are also being investigated for treating prostate cancer.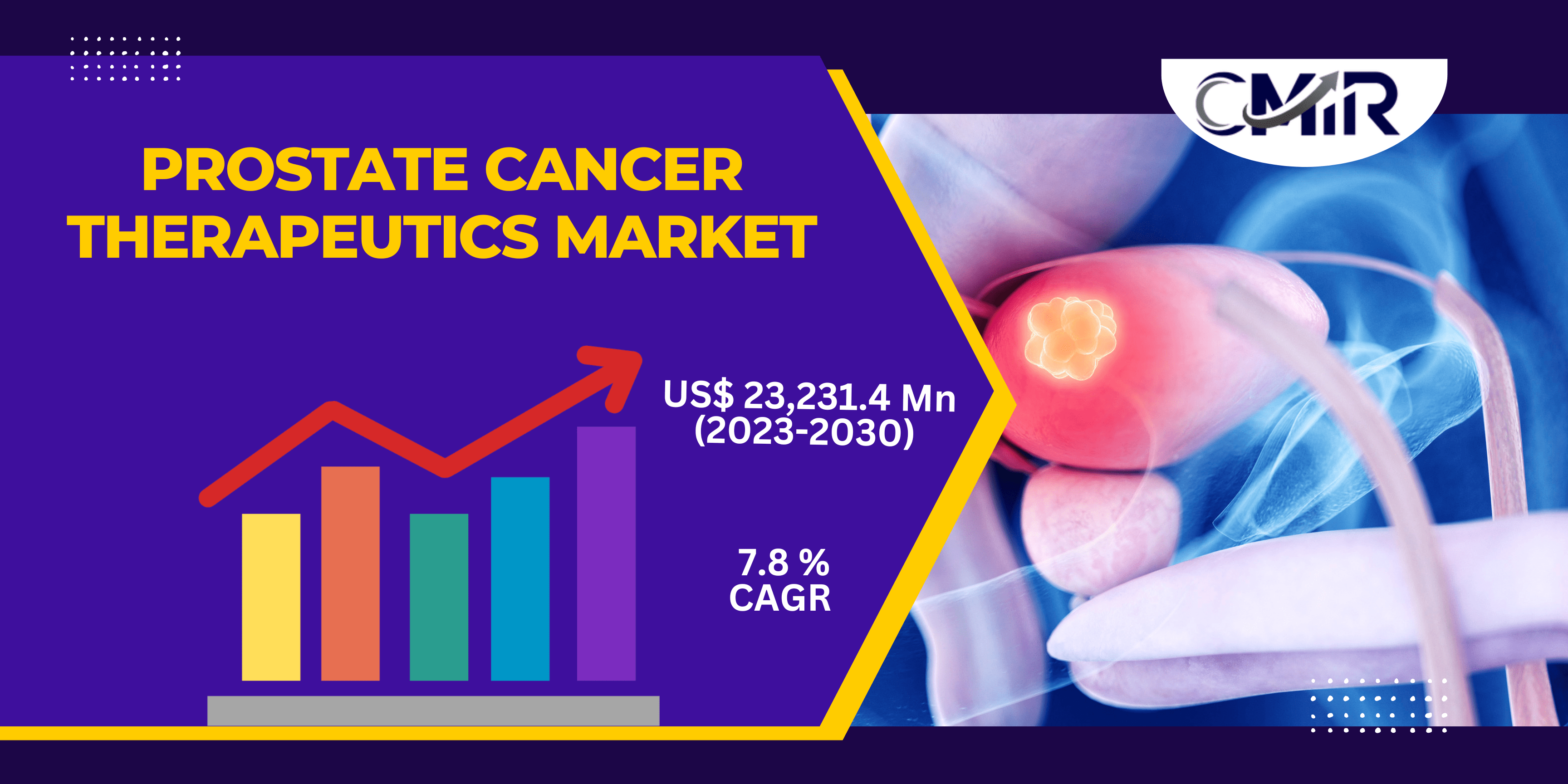 Prostate Cancer Therapeutics Market Amid COVID-19 Pandemic
The rapid onset of the COVID-19 pandemic significantly impacted cancer detection and treatment, leading to the suspension of diagnostic and surgical procedures. Moreover, research has indicated that individuals with cancer, particularly those with prostate cancer, are more susceptible to COVID-19 due to their immunosuppressed state from the cancer itself and associated treatments. As a precaution, they were strongly advised to avoid non-essential diagnostic or treatment procedures and to stay home. The Union for International Cancer Control (UICC) reported a substantial decrease in cancer diagnosis rates in the United States in May 2020 because of the pandemic. This decline in cancer diagnoses is expected to translate into a temporary reduction in demand during this period.
However, with the gradual relaxation of stringent regulations, there is an anticipation that diagnostic clinics and research efforts related to prostate cancer will resume. This resumption is projected to contribute to the expansion of the market in the post-pandemic period. As healthcare services and facilities adapt to the new normal and implement safety measures, there is an expectation that the momentum will pick up again in terms of cancer detection, treatment, and related research activities.
Increasing Prevalence of Prostate Cancer, along with the Geriatric Population and new product development to Boost Prostate Cancer Therapeutics Market
The growth of the market under study is primarily driven by two key factors: an aging population and a high frequency of prostate cancer. Prostate cancer ranks as the second most prevalent form of cancer among men. It has been identified in 1,414,259 cases globally, accounting for 7.3% of all cancer cases. The prevalence of prostate cancer is notably higher in older individuals, aligning with the increasing global aging population. According to the World Population Prospects 2022 report by the United Nations, the proportion of people aged 65 or older is projected to rise from 10% in 2022 to 16% in 2050. This demographic shift is expected to amplify the expansion of the market due to the greater vulnerability of the elderly to prostate cancer.
Furthermore, the market's growth trajectory is anticipated to be further buoyed by escalating product approvals and advancements. A noteworthy example occurred in March 2022, when the US Food and Drug Administration approved Novartis' Pluvicto (lutetium Lu 177 vipivotide tetraxetan) for treating adult patients afflicted by prostate-specific membrane antigen-positive metastatic castration-resistant prostate cancer – a specific subtype of advanced cancer. This approval is poised to contribute to the market's expansion by increasing the usage of prostate cancer medications.
In tandem with pharmaceutical breakthroughs, the rising number of product launches will play a pivotal role in expanding the research segment. A notable instance of this trend took place in May, with the introduction of a pioneering prostate MRI-to-ultrasound registration tool. This innovative tool facilitates MRI-to-ultrasound registration using both trans-rectal ultrasound imagery and conventional MRI scans. The adoption of advanced technologies like this, driven by the growing utilization of transrectal ultrasound diagnostics for detecting prostate cancer, is poised to further fuel the growth of the market.
North America to spearhead the Prostate Cancer Therapeutics market
In 2022, North America commanded approximately 50% of the global prostate cancer treatment market share, a position expected to persist throughout the forecast period. This dominance can be attributed to several factors, including heightened utilization of prostate cancer treatment products, widespread dispersion of prostate cancer pharmaceuticals, the robust presence of pharmaceutical enterprises, and a well-established healthcare infrastructure. Notably, North America's growth trajectory is underpinned by the emergence of promising novel medications within the biologics and hormone therapy sectors. The imminent introduction of pipeline drugs is projected to exert a substantial influence on the regional market during the envisaged period.
Within North America, both public and private institutions are making significant investments in healthcare infrastructure and research and development. This strategic focus aims to address the mounting incidence of prostate cancer patients, resulting in the heightened usage of diverse treatment products.
The regulatory environment in North America is experiencing positive transformations. Regulatory agencies are streamlining their policies and procedures, facilitating a more straightforward launch process for new drugs. This supportive climate empowers pharmaceutical enterprises to bring novel therapies to market more efficiently.
The American Cancer Society's 2022 projections anticipate an influx of over 1.9 million new cancer cases within the country. Importantly, the cancer susceptibility notably escalates with advancing age, a trend corroborated by the same source. Concurrently, the population is witnessing an increase in individuals grappling with chronic illnesses, further underscoring the significance of the geriatric demographic.
Competitive Insights
The global Prostate Cancer Therapeutics market is driven by prominent players such as Sanofi, Astellas Pharma US, Inc., Myovant Sciences Ltd., Ipsen Pharma, AbbVie Inc., Johnson & Johnson Services, Inc., BG Bayer, AstraZeneca, Tolmar Pharmaceuticals Inc., Ferring B.V, Takeda Pharmaceutical Company, Teva Pharmaceutical Industries Ltd., Dendreon Pharmaceuticals LLC, Pfizer Inc., Abbott, GlaxoSmithKline plc, Bristol-Myers Squibb Company, F. Hoffmann-La Roche Ltd, Novartis AG, and Genentech, Inc. These companies have strategically embraced various growth strategies to not only expand their market share but also enhance their revenue streams. Key growth strategies adopted by these companies include:
A prevailing strategy involves forging partnerships and collaborations. This facilitates the exchange of resources and expertise, accelerating the development of novel treatments. Through these collaborative efforts, companies can effectively leverage each other's strengths to create innovative therapies.
Many players are dedicating significant investments to research and development, aimed at both innovating new radiotheranostic solutions and refining existing ones. This commitment supports the expansion of product offerings, thus securing a competitive advantage in the market.
Companies are also exploring the avenue of acquisitions and mergers to access new technologies. By integrating the capabilities of other entities, they can gain access to novel technological advancements and broaden their product portfolios.
Recognizing the competitive nature of the market, companies are ramping up their investments. These investments are channeled into the production of cost-effective products, thereby facilitating expansion and growth in a competitive landscape.
A proactive approach to meet evolving market demands involves continuous new product development. By staying responsive to market needs, companies ensure that their product lineup remains relevant and effective.