Medical tourism can be defined as the process in which people travel abroad in order to receive medical care and treatment. In other words, medical tourism is when a patient from a particular nation travel to another nation that has good medical facilities treatment isn't available in his or her own nation or is expensive in nature. Most commonly patients travel across nations to avail dental care, cosmetic care, fertility treatment and other serious diseases like cancer and heart related issues.
The medical tourism market is anticipated to grow from US$ 12,475.2 million in 2022 to US$ 59,248.3 million by the end of 2030, expanding at a CAGR of 21.6 % from 2023 to 2030 (forecast period).
  Medical tourism is quite popular among global patients because of low cost of medical treatment in developing countries, which is found to be very costly in developed countries.  There's been a considerable growth in global medical tourism market owing to low-cost services and medical treatments from local governments.
Medical Tourism Market to Recover Amid COVID-19 Pandemic
Due to almost all nations' decision to close all production sites aside from those engaged in the production of necessities, COVID-19 had a major effect on the medical tourism market. The government implemented strict measures, including halting the production and selling of non-essential products, stifling international commerce, and many others, to stop the spread of COVID-19. The only companies allowed to operate and manage the processes during this pandemic were those providing critical services.
An increase in travel limitations in many countries, which has stopped travel facilities, has had an effect on the health tourism industry. Furthermore, many key industries' markets were shut down as a result of trade conflicts brought on by the worsening economic circumstances in many developing nations.
COVID-19, however, had a detrimental effect on the medical tourism industry because it prevented customers from travelling across borders and forced the majority of businesses to briefly halt their operations for several months.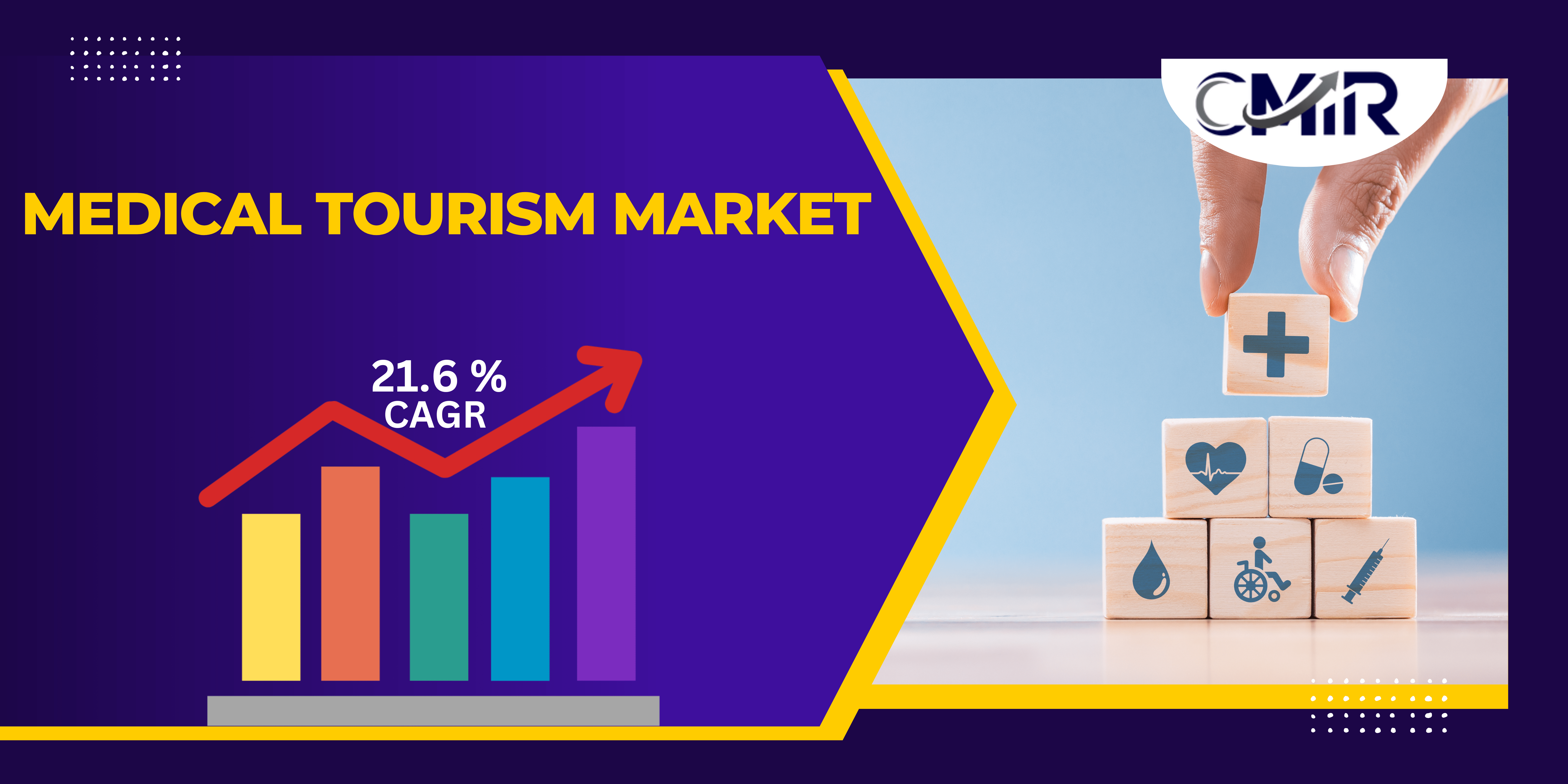 Increasing Prevalence of technological advancements and high-quality healthcare to Medical Tourism Market
The worldwide medical tourism industry is expanding as a result of technological advancements and the accessibility of high-quality healthcare.
One of the businesses with the quickest global growth is medical tourism. People receive medical care while travelling overseas for therapies. Additionally, during the projected era, greater knowledge of cutting-edge medical facilities is anticipated to be the most important factor limiting the development of the medical tourism market. Developing nations are giving more and more attention to excellent healthcare and technical advancements in the medical and healthcare industries.
In addition, the rapid adoption of technological advancements, quicker access to medically necessary procedures, affordable care for related treatments, less expensive care for discretionary procedures, and higher quality rates for medically necessary procedures all contribute to the growth of the medical tourism industry. The degree to which patients journey for therapy is what determines the improvement and development of medical tourism, which should be accessible and affordable. For instance, cancer therapy is costly and takes a long time to complete. People move to other nations in search of improved accessibility and price range. It helps the medical tourism industry to expand.
North America to Spearhead the Medical Tourism Market
North America is the fastest-growing segment in the medical tourism market due to several factors, including:
Convenience and reduced wait times: Patients may experience lengthy wait times for medical treatments in different countries. The United States frequently has lower wait periods. Traveling to another nation frequently gives patients the chance to get medical care that is both quicker and more practical.
Advanced medical technology : Due to advanced medical technology, North America is projected to be the primary host of medical tourists from around the world.
Highly trained medical experts: The medical staff in North America are highly trained and skilled and therefore the medical tourism market is greatly flourishing in North America.
Competitive Insights
Companies operating in the medical tourism market have adopted several growth strategies to expand their market share and increase their revenue. Some of the key players in medical tourism market include Apollo Hospitals Enterprise Ltd. (India), Fortis Healthcare (India), KPJ HEALTHCARE BERHAD (Malaysia), Nippon Telegraph and Telephone East Corporation (Japan), ADITYA BIRLA HEALTH SERVICES LTD. (India), Samitivej PCL (Thailand), BB Healthcare Solutions (U.K.), UZ LEUVEN (Belgium), Berkalp Co-Limited (Ireland), MEDIC ABROAD (U.S.), AMERICAN MEDICAL CARE (U.S.), MEDICINE PARK UNITED KINGDOM (U.K.), Hospital Galenia, Centro Médico ABC (Mexico), etc.
Strategic initiatives and Collaborations: As competition in the market of health travel becomes fiercer, players in the industry have adopted a number of strategic initiatives and collaborations to increase their service value and quality in order to distinguish them from their competitors.
Geographical Expansion: Businesses are extending their reach by starting operations in markets with strong development prospects and new markets. As a result, businesses can reach out to new clientele and boost sales.
Acquisitions and Mergers: Businesses buy or merge with other businesses to access their product inventories, knowledge, and new technologies. Companies can increase their skills, product lines, and market dominance through these mergers and purchases.
Marketing and Promotional Activities: Businesses are investing in marketing and promotional initiatives to raise public knowledge of the advantages of medical travel and to inform patients and healthcare workers about these advantages. This allows businesses to boost interest in their goods and boost revenue.
Overall, these growth strategies enable companies to expand their market presence, develop new products, and increase their revenue in the medical tourism market