A technology known as a laboratory gas generator has versatile applications across multiple sectors, including the chemical and pharmaceutical industries. It finds utility in various tasks such as chromatography and mass spectrometry applications, drug analysis, and identifying diverse compounds within samples. Notably, nitrogen gas generators play a vital role within the pharmaceutical domain by creating an environment of high-quality N2 gas. This controlled atmosphere safeguards and sustains pharmaceutical products during transit, particularly during the packaging process before sealing. Additionally, nitrogen blanketing contributes to preserving and enhancing medicinal product quality.
The Global Laboratory Gas Generators Market was valued at US$ 412.9 Million in 2022 and is anticipated to reach US$ 814.1 Million by the end of 2030 with a CAGR of 8.9% from 2023 to 2030.
Furthermore, laboratory gas cylinders, owing to their limited gas capacity and low-pressure operation, are regarded as less safe compared to standard gas cylinders. In contrast, laboratory gas generators come equipped with specialized safety sensors that prompt them to halt operations in the presence of potential risks like fire hazards.
The system directly supplies purified gas from a laboratory gas cylinder. This process necessitates the use of specific purified gas instruments, including environmental chambers, gas chromatographs, gas analyzers, GC-MS (Gas Chromatography-Mass Spectrometry), FTIR (Fourier Transform Infrared Spectroscopy), and ion mobility spectrometers.
Factors Boosting Laboratory Gas Generators Market
The laboratory gas generator market is poised for substantial growth driven by several influential factors, including:
Automation and Digitization: Automation and digitization are progressively permeating laboratory settings. This trend extends to gas generation systems, propelling the demand for laboratory gas generators that seamlessly integrate with automated lab processes.
Expansion in Pharmaceutical and Biotechnology Sectors: The rapid expansion of pharmaceutical and biotechnology industries necessitates versatile laboratory gas generators for diverse applications like sample preparation, chromatography, and mass spectrometry.
Stringent Gas Handling and Storage Regulations: Rigorous regulations governing gas handling and storage in labs are fueling the need for secure and dependable laboratory gas generators. Adhering to these regulations mandates sophisticated gas generation solutions.
Growing Emphasis on Sustainability: Laboratory gas generators present an eco-conscious alternative to conventional gas cylinders, which are costly, logistically challenging, and environmentally unfriendly. With sustainability gaining traction, laboratories are actively seeking more environmentally responsible solutions.
Demand for High Purity Gases: Numerous lab procedures, including gas chromatography and mass spectrometry, necessitate gases of exceptional purity. Laboratory gas generators can produce these gases on-site, addressing the rising demand for processes reliant on high-purity gases.
Collectively, these factors are poised to significantly drive the expansion of the laboratory gas generator market.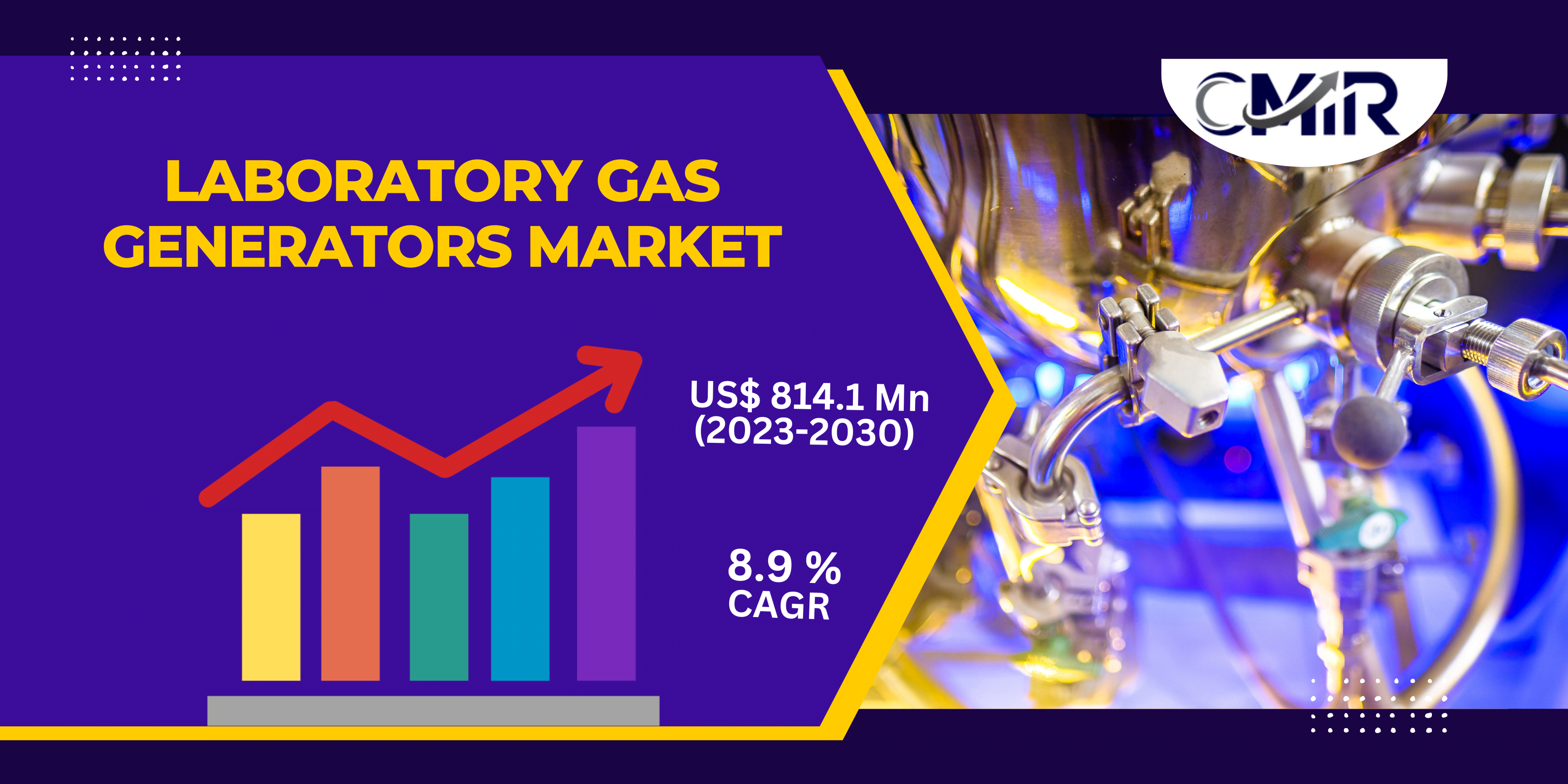 North America to Spearhead the Laboratory Gas Generators Market
North America is the fastest-growing segment in the laboratory gas generators market due to several factors, including:
The upward trajectory in demand for alternative gas supply solutions stems from the drawbacks associated with conventional gas cylinders, both in terms of cost and inconvenience. This burgeoning demand has catalyzed the search for more pragmatic and economical alternatives. In this context, laboratory gas generators have emerged as dependable replacements for traditional cylinders, potentially propelling their adoption in the market.
The North American region, with its prominent research institutions, has experienced a notable upswing in research and development investments. Given that laboratory gas generators constitute vital tools for a range of research applications, this heightened focus on R&D is predicted to fuel a surge in demand for these generators.
The heightened emphasis on environmental sustainability has prompted various industries to embrace greener alternatives. Laboratory gas generators, recognized as more environmentally friendly compared to their conventional cylinder counterparts, are likely to experience amplified demand due to this heightened environmental awareness.
Rapid technological advancements have resulted in improved performance and cost efficiency for laboratory gas generators. These innovative strides enhance the attractiveness of such generators for laboratories across the region.
Furthermore, governmental initiatives and regulatory constraints are contributing to the shift away from traditional gas cylinders within laboratory settings. Regulatory bodies like the United States Occupational Safety and Health Administration (OSHA) have introduced guidelines mandating safe usage of compressed gas cylinders. Given that laboratory gas generators offer a safer and more user-friendly alternative, these regulations are poised to drive an upsurge in demand for these generator solutions.
Competitive Insights
Companies operating in the global laboratory gas generators market have adopted several growth strategies to expand their market share and increase their revenue. Some of the main players operating in the laboratory gas generators market include Parker Hannifin Corporation, PeakGas, Linde plc, Nel ASA, PerkinElmer Inc., VICI DBS, Angstrom Advanced Inc., Durr Group, ErreDue spa, F-DGSi, LabTech S.r.l. , CLAIND S.r.l. , On Site Gas Systems, Inc., WIRAC Automation Ltd., Isolcell S.p.A., PCI Analytics Private Limited, INMATEC GaseTechnologie GmbH & Co. KG, Oxymat A/S, Nitrogenium Innovations & Filtration India Pvt. Ltd., Analab Scientific Instruments Private Limited, LNI Swissgas Srl, Asynt Ltd., Apex Gasgen, Leman Instruments, and Laboratory Gas Africa.
Within the laboratory gas generator market, companies frequently forge partnerships and collaborations to spur innovation and foster product development. One illustrative instance involves Parker Hannifin Corporation's collaboration with the French firm Proline in 2019. This partnership aimed to jointly create, and market specialized hydrogen gas generators tailored for laboratory applications.
Sustaining competitiveness and elevating offerings hinges significantly on product development and launches in this industry. An example is Peak Scientific's introduction of fresh bench solutions and laboratory nitrogen generators in August 2020. These were purpose-built for the SCIEX 7500 liquid chromatography-mass spectrometry system, resulting from a collaborative endeavour with SCIEX to meet the mounting demand for laboratory nitrogen generators.
Geographical expansion emerges as another strategic cornerstone in the laboratory gas generator landscape. Companies are strategically extending their footprint to tap into the escalating demand for these generators. PEAK Scientific serves as a case in point, having expanded its manufacturing space at its Glasgow headquarters in March 2022. This expansion, from 8,500 to over 12,500 square feet, is geared towards ramping up production capacity, generating more local employment opportunities, and effectively meeting the surging market demand.
Mergers and acquisitions further define the contours of the laboratory gas generator market. These calculated manoeuvres enable companies to broaden their product portfolios and extend their customer base. An illustration of this trend is Nel ASA's acquisition of Proton Onsite in 2019. Proton Onsite specializes in hydrogen generators tailored for laboratory and industrial usage, aligning seamlessly with Nel ASA's overarching growth ambitions.
Collectively, these diverse growth strategies empower companies to stretch their market presence, innovate novel products, and enhance their revenue streams within the laboratory gas generator market.