One variety of pharyngitis, which is an inflammation of the pharynx, the back of the throat, is gas pharyngitis. Group A streptococcus (GAS), the bacteria that causes gas pharyngitis, can have serious consequences if left untreated.
The Global GAS Pharyngitis Diagnostics Market was valued at US$ 178.3 Million in 2022 and is anticipated to reach US$ 214.6 Million by the end of 2030 with a CAGR of 2.3% from 2023 to 2030. (forecast period).
A bacterial infection called Group A streptococcus (GAS) pharyngitis, sometimes referred to as strep throat, affects the tonsils and the back of the throat. It primarily occurs towards the end of the winter season and is common among young newborns and the adult elderly population. Fever, sore throat, stomachache, nausea, vomiting, red eyes, and diarrhea are typical signs of infection. A person can contract strep throat by coming into contact with an infected person. As a result, busy areas like schools and military academies are expected to see the most transmission. Traditional diagnostic methods include fast strep testing and throat cultures, the latter of which has better sensitivity.
Physical examination, medical history, and laboratory tests are used to diagnose gas pharyngitis.
Increasing Prevalence of GAS Pharyngitis to Boost GAS Pharyngitis Diagnostics Market
Gas pharyngitis, attributable to the Group A Streptococcus (GAS) bacteria, is witnessing an uptick in occurrence, precipitating a surge in demand for proficient diagnostic solutions. These diagnostic tools encompass a range of techniques, including rapid antigen detection tests, molecular diagnostic assays, and culture-based examinations. With an escalating number of patients seeking medical attention for symptoms associated with pharyngitis, the need for these diagnostic methods is projected to experience a notable upswing. Various factors contribute to the proliferation of GAS infections, among which suboptimal hygiene practices and overcrowded living conditions feature prominently.
A significant apprehension surrounding GAS infections pertains to antibiotic resistance, particularly within certain GAS strains. This accentuates the criticality of precise diagnosis and appropriate therapeutic interventions to effectively combat the infection. The pivotal role of diagnostic tools comes into focus as they facilitate the identification of GAS presence in patients, empowering healthcare practitioners to implement targeted treatments while mitigating the risks associated with antibiotic resistance.
Considering the mounting incidence of GAS pharyngitis and the conceivable complications stemming from untreated infections or unwarranted antibiotic usage, medical professionals are expected to increasingly depend on these diagnostic tools. Timely and accurate diagnosis holds the potential to facilitate optimal management and curtail the infection's propagation within communities. Consequently, the market catering to GAS pharyngitis diagnostics is poised to expand, given healthcare providers' earnest endeavors to accurately identify and effectively treat this pervasive ailment.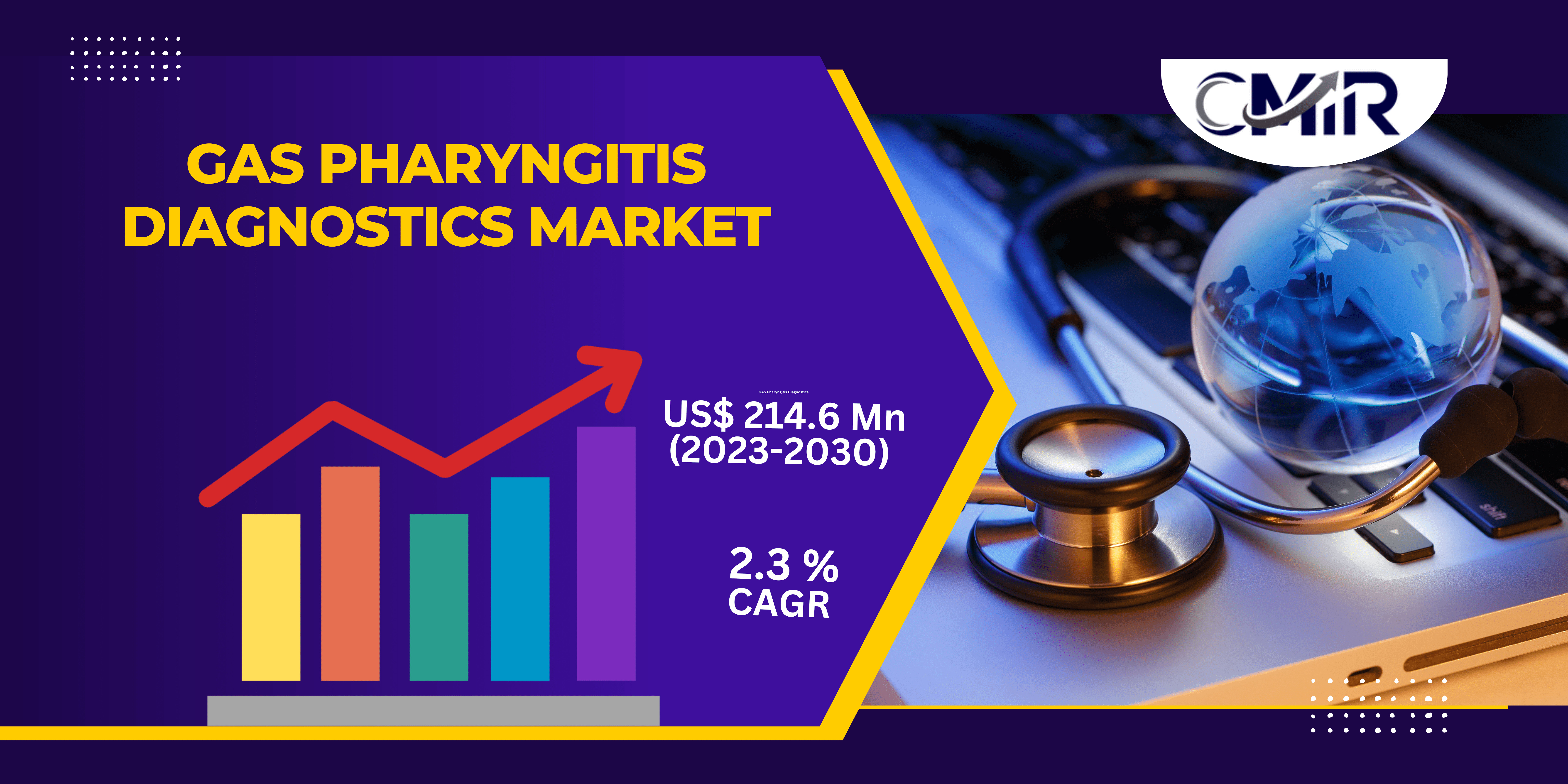 North America to Spearhead the GAS pharyngitis diagnostics Market
North America is the fastest-growing segment in the GAS pharyngitis diagnostics market due to several factors, including:
Gas pharyngitis, a result of the Group A Streptococcus (GAS) bacteria, has indeed emerged as a contagious infection that is on the rise in North America. A multitude of factors, encompassing aspects like population density, suboptimal hygiene practices, and the emergence of antibiotic-resistant strains, collectively contribute to the propagation of this infection.
Prompt diagnosis of gas pharyngitis holds utmost significance for efficacious treatment and the prevention of potential complications, including conditions like rheumatic fever or kidney inflammation. The recognition of the significance of early detection is shared both by patients and healthcare practitioners, as it plays a pivotal role in managing the ailment and averting its further dissemination.
Recent strides in diagnostic testing technologies have yielded remarkable improvements in the accuracy and expediency of diagnosing gas pharyngitis. Molecular diagnostic tests and rapid strep tests are prominent instances of these advancements, equipping healthcare providers with the means to swiftly detect the presence of GAS bacteria in affected individuals.
The augmentation in healthcare expenditures, coupled with the upsurge in telemedicine services, particularly in the backdrop of the COVID-19 pandemic, has fostered a burgeoning demand for at-home diagnostic tests. This trend has extended to the diagnosis of gas pharyngitis, driving the expansion of the diagnostics market in North America. At-home diagnostic tests present the advantages of convenience and accessibility, empowering individuals to conduct tests for the infection without needing to visit a healthcare facility.
To summarize, the confluence of escalating prevalence, heightened awareness regarding early diagnosis, breakthroughs in diagnostic testing technologies, and the clamor for at-home testing has collectively propelled the expansion of the gas pharyngitis diagnostics market within the North American landscape.
Competitive Insights
Companies operating in the GAS pharyngitis diagnostics market have adopted several growth strategies to expand their market share and increase their revenue. Some of the prominent players operating in the market include Quidel Corporation, BD, Abbott Laboratories, bioMrieux SA, Hoffmann-La Roche Ltd, Beckman Coulter, Inc. (Danaher), Meridian Bioscience, Inc., DiaSorin S.p.A., Sekisui Diagnostics, Luminex Corporation, bioMrieux SA, etc.
In this sector, companies indeed employ a variety of strategies to set themselves apart, expand their reach, and introduce innovative solutions. Collaborations and partnerships serve as effective vehicles for pooling strengths and expertise, often leading to the development of novel diagnostic tests or technologies. Robust research and development endeavors contribute to crafting fresh products that effectively meet market demands, while well-executed marketing campaigns aid these products in gaining visibility.
The strategy of expanding into new geographical regions is a well-adopted approach to accessing untapped markets and diversifying customer bases. Tailoring products to align with regional preferences and regulations emerges as a crucial factor for success in these novel markets. The requirement for regulatory approvals from local health authorities, as exemplified by Abbott Laboratories' Alinity m GAS assay securing approval in Japan, underscores the significance of adhering to regional protocols.
Mergers and acquisitions play a pivotal role in shaping this industry, offering companies the opportunity to acquire specialized technologies, talented personnel, or established customer networks. Pooling resources and expertise through such endeavors can lead to swift growth and innovative breakthroughs.
While the gas pharyngitis diagnostics market might not be as extensive as some other sectors, its growth potential is indeed substantial. The collaborative nature of the industry, combined with technological advancements and a heightened emphasis on precise diagnostics, positions companies to have a meaningful impact in curbing the spread of GAS infections and elevating the standards of patient care. Your articulation captures the essence of this evolving market accurately.